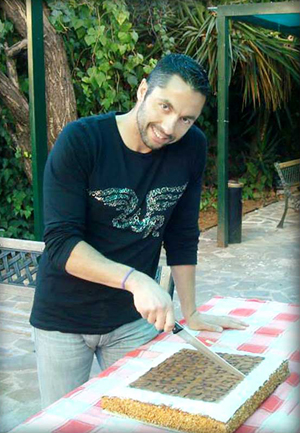 Christos Kechagias was born in Perama in 1975, where he lives to date.
He completed successfully his primary and secondary education in the schools of our city, receiving a variety of awards and excellency honors.
He studied Chemistry, at the School of Sciences, of the University of Athens. He graduated as the first and only excellent student of the Chemistry department, winning many scholarships from public and private educational institutions. He received his MSc at the Management of Production and Techno-Economic Systems at the National Technical University of Athens.
He served his military service as a reserve officer in the Artillery Corps of the Hellenic Army.
He worked for 5 years in the Greek chemical industry (paints, varnishes, drugs) as head of production, responsible for quality control and research & development of new products.
He has collaborated with several private tutoring schools of secondary and tertiary education. He has already 20 years of experience of teaching private lessons in groups.
Since 2011 he has been acting Vice President of the S.E.D.A.S. athletics club in Perama, while since 2012 he is an elected member of the Teachers of Attica Association (SEFA) board
He is a strong supporter of the "Lifelong Learning" idea. Recently he completed his second MSc degree in "Human Resources Management" at the Athens University of Economics and Business, under the supervision of Professor Dimitris Bourandas.
In his free time he is regularly involved in aerobic sports and running, participating in several long distance road races. He has finished 12 marathon races in Greece and abroad, while he has taken part in more than 300 road races (1,500 - 50,000 meters) receiving several distinctions.